Panbe ( the art of blacksmith )
Details

Category: Myanmar Arts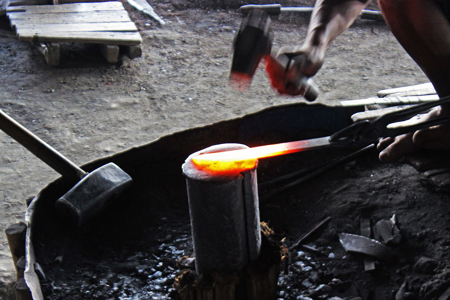 Panbe is the tempering of iron in the furnace to make necessary items. The artisans make ox cart axle, ox cart iron, tyre, scissors, hammer, adze, pickaxe, knife, hatchet, axe, digging hoe and mattock. The Myanmar's traditional blacksmith craft emerged in the early of Bagan period (11th century A.D)
and it had improved in the mid Bagan Inwa and Yadanapon period. Myanmar's traditional blacksmith craft, from Inlay region were famous in the Yadanapon period. Many types of blacksmith craft articles are invaluable, such as military armour, weapons, file, pickaxe, mattock, hoe sword, etc. The Myanmar's traditional blacksmith craft is very famous in the South East Asia and constitute one of the artistic wonders of the world. Here are some more of the Myanmar Arts not categorised in the above 10 Flowers.
thumb_up Do you like this? Share it to friends..
comment Tell others what you think.. Your reviews and comments are valuable to others..